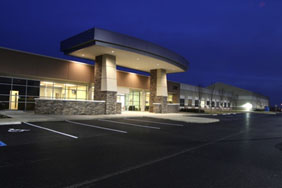 Contracts Used:
ConsensusDocs 300 – Tri-Party Agreement for Integrated Project Delivery (IPD)
Project Contractor: DPR │Turner a Joint Venture
Project Team: Universal Health Services, Inc. (UHS)
Hospital: Cumberland Hall Hospital
Architect: Stengel Hill Architecture
Construction Manager: Brasfield & Gorrie
Civil Engineer: MLH Civil Engineers, PLLC
Structure: Lichtefeld Incorporated
Interior Design: In.Design Inc.
Fire Protection Engineer: Grand Fire Protection
Mechanical Engineer: Rock City Mechanical
Electrical Engineer: Enterprise Electric, LLC
Foodservices Design: Inman Foodservices Group, LLC
Project Description: Cumberland Hall Hospital in Hopkinsville, Kentucky is a new, freestanding, one-story, 69,020 square foot Replacement Psychiatric Hospital. This single unified contemporary design replaced the previous Hospital which was comprised of a series of buildings that sat disconnected on one campus. This new facility includes ninety-seven beds, indoor and outdoor recreation areas, an indoor rock climbing wall, weight room and expanded areas for family therapy and military unit sessions, dining area, on-site school, assessment and counselor areas, administrative areas, group therapy rooms, freestanding gymnasium, and other amenities. The entire facility has been designed to accommodate future expansion.
The facility is located just 5 miles from Fort Campbell and the intent is that Cumberland Hall will provide the much needed and ever growing care for the military healthcare system for military and their families. In addition to the military population, Cumberland Hall provides care for adults, adolescents, and children as well as accommodations for future geriatric populations.  The geometry of the building was a result of creating a healing environment for each of these populations while keeping each population separate from the other to ensure the specific needs and level of care are being met.
Project Testimonial: UHS firmly believes in utilizing Lean principles throughout the entire design and construction process and the ConsensusDocs plays a vital role in being the contractual document that assists in facilitating collaboration and trust which are two fundamental principles with Lean.
The Project Team's high level of collaboration throughout the entire design and construction phases resulted in a beautiful, contemporary, state of the art facility in which the following Team's goal was achieved.
"Design a facility in which you would be proud for one of your own family members to receive treatment."