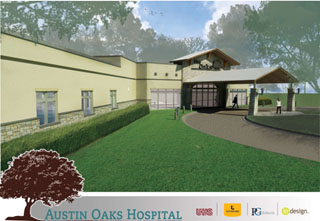 Contracts Used:
Consensus Docs 300 – Tri-Party Agreement for Integrated Project Delivery

 (IPD)
Project Partners/Signers:
Owner:  Universal Health Services, Inc. (UHS)
Hospital:  The Oaks at Austin Lakes
Architect:  Polkinghorn Group Architects
General Contractor:  Lott Brothers Construction Co.
Mechanical/Plumbing:  Cobb Mechanical Contractors
Electrical:  Colvin Electric
Drywall/EIFS: F.L. Crane & Sons, Inc.
Project Description: The Oaks at Austin Lakes in Austin, Texas is a $11.5MM new, freestanding, one-story, 48,000 square foot Acute Care 80 Bed Behavioral Hospital with a 10,000 square foot admissions and outpatient building, constructed on the site of the previous Oaks Treatment Center. The final campus layout was the result of a collaborative team effort which had to determine the optimal building and site configuration given local regulatory constraints that included building around
heritage trees and a maximum allowed impervious cover yet create an efficient end user layout, and reduce required site and building cost.
This new facility includes eighty beds (56 Adult, a 16 Bed Adolescent and an 8 Bed child Unit), indoor and outdoor
recreation areas, dining area, assessment and counselor areas, administrative areas, group therapy rooms, and other amenities. Through the collaborative analysis conducted by the team the final, optimized site layout resulted in a 'triangle' shaped main building with a separate outpatient and admissions facility.
The facility is located in South Austin and will fulfill a much needed treatment need in an area which has historically lacked sufficient psychiatric beds for adults, and will alleviate emergency room backups currently occurring due this lack of services.
Project Testimonial: "Universal Health Services, Inc. believes in utilizing Lean principles throughout the entire design and construction process and the Consensus Docs plays a vital role in aligning the contractual incentives and roles of the project partners with the overall goals of the project.
The Project Team's high level of collaboration throughout the project phases has resulted in an efficient, cost effective and most importantly, healing and therapeutic building design with a very high degree of confidence in the building quality and predicted delivery schedule.  In addition, managing an aggressive project target cost estimate that the Consensus Doc signers accepted as a challenge, all partners are projected to realize profits at the full enhanced levels."