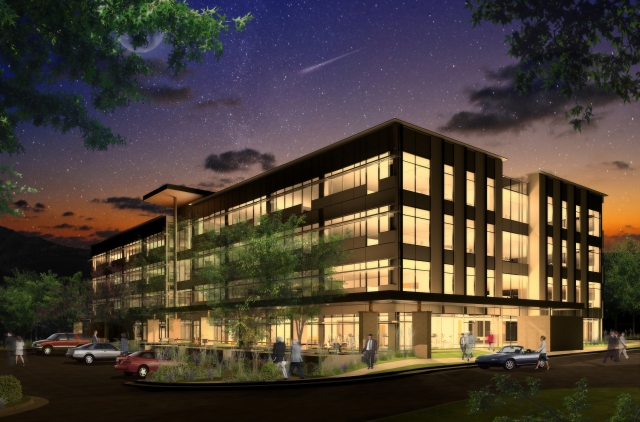 Constract Used:
ConsensusDocs 301 – Building Information Modeling (BIM) Addendum
Project Contractor: JE Dunn Construction
Project Description: LEED Gold, 125,000 sq ft, 4-Story, Class A Office Building located in Westminster, Colorado. While the Trimble Westmoor Building project is contracted under a more conventional guaranteed max price (GMP) project delivery mechanism, the project team is facilitating the project using integrated project delivery (IPD) techniques and strategies to gain the lifecycle benefits of BIM and deliver the project in a tight 13-month schedule.
The full spectrum of Trimble technologies have been utilized on the project spanning survey, site-work and excavation to estimating, 3D design and modeling, project management, sheet metal fabrication to construction layout.
Throughout building design and construction, the project team has facilitated the seamless transition of data from design through construction and handover using building information modeling (BIM) technology. The project team developed detailed, dimensionally-accurate models, drive that data to the field using BIM-to-field methodologies, and then re-capture data in the field to update the model, thus creating a digital file that lives throughout the facility's life.
Project Testimonial: "I believe that the ConsensusDoc 301 BIM Addendum that we utilized on the Trimble Westminster campus project may offer the most functional and practical solution to defining contractual requirements for BIM enabled projects."
Rodd Merchant, Senior Vice President, JE Dunn Construction Company